Tim Paine's Story Proves That Fortune Doesn't Just Favour the Brave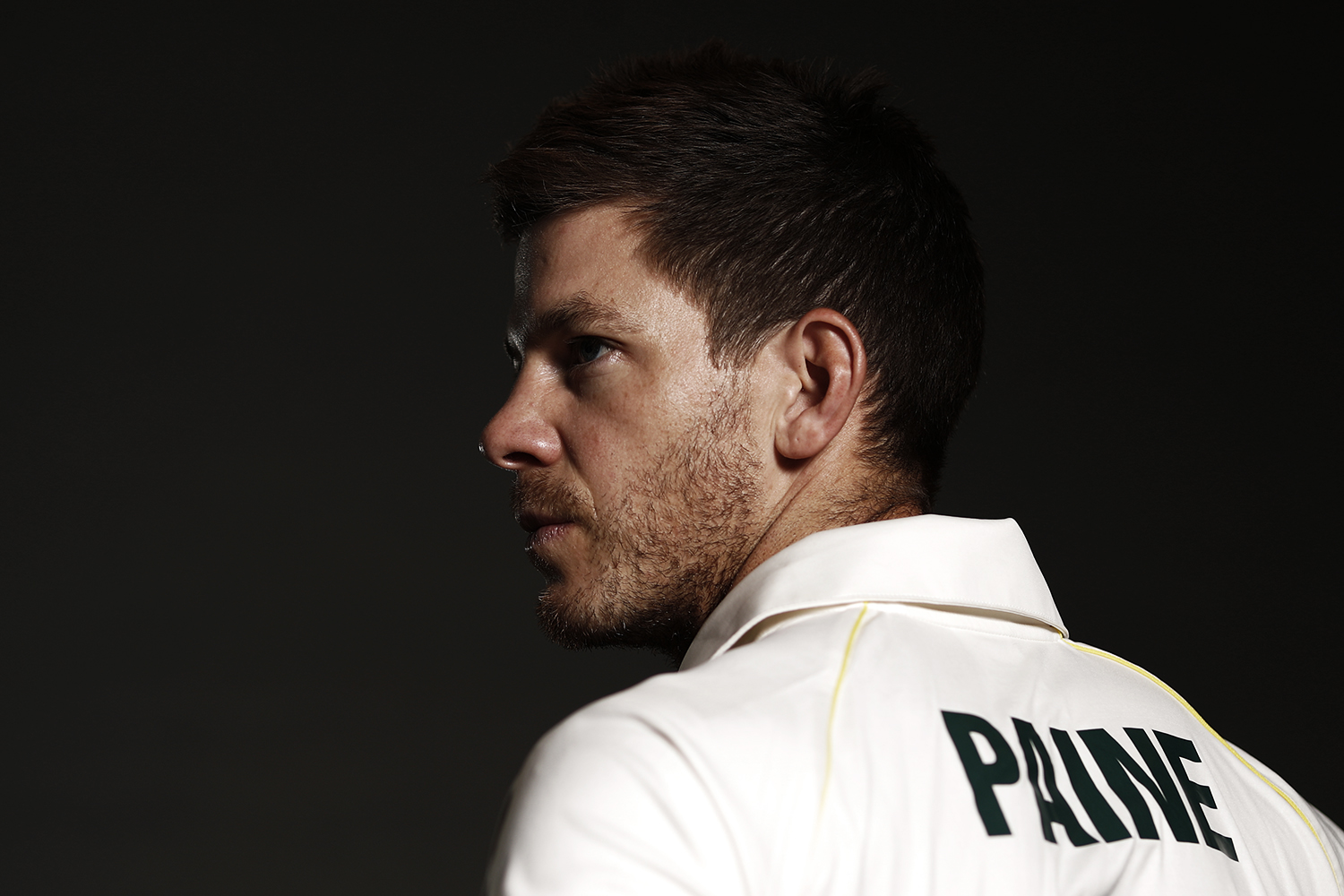 Test cricket captain Tim Paine readily admits to being one of the luckiest athletes in Australian sport. The thing is, luck alone can't explain a career that's exceeded all expectations.
When I catch up with Tim Paine, he's driving through heavy rain on a dreary Hobart day. It's the middle of winter and Paine is on his way home after finishing his morning training session at Bellerive Oval. On the way he'll stop off at his favourite spot, the Sandy Bay Bakery, where he goes most days to get a salad roll. Because it's winter and the gauge on Paine's dash says it's 10 degrees outside, he'll have a vegetable soup with his roll. If it were summer, he'd have a coffee. Simple pleasures for a man who likes to keep things straight forward.
If it all sounds a little humdrum for an Australian cricket captain that's fine by Paine. With its familiar faces and simple daily rituals, Hobart in July is about as far away as you can get from the MCG on Boxing Day.
There is a parallel universe in which Paine isn't here in Hobart at all but living an anonymous, possibly even more ho-hum life on the 'big island'. In that universe he quit cricket four years ago, took up a job as a sponsorship rep with Kookaburra and is now living comfortably enough with wife Bonnie and their two children, Milla, four, and Charlie, two, in Melbourne. Paine is the rare sportsman who's relaxed about the prospect of retirement because he was never really supposed to be in this position to begin with. "I've played a lot more cricket for Australia than I thought I was going to," he says. "It's all come as a bit of a blessing."
You can call Paine lucky. He does. How does a bloke who was almost out of the Tasmanian state side wind up playing in the Ashes just a few months later? How does that bloke then become the freakin' Australian captain, only one series and a few months after that? Fate intervenes and circumstances conspire. Sure, that's a decent chunk of it. The other part? That was in Paine's hands and those, well, they've always been reliable.

He kept working hard. Kept himself in calculations. And when circumstances dictated, extraordinary as they were, he was ready to meet them.
As Paine says, "my career changed drastically. My life hasn't. Tasmania is of one of those places where you just don't. If I changed too much, I'd be quickly pulled back down to earth here in Tassie." You won't see him swapping his salad roll for avo' on toast, in other words.
Paine's story offers hope to anyone who's ever been frustrated by rejection or disillusioned that hard work doesn't appear to be amounting to anything. To anyone on the verge of giving up on a dream and then perhaps forever wondering what might be happening in some parallel existence. Because fortune doesn't just favour the brave. Occasionally it smiles on those who continue to work hard. Those who keep showing up.
Inner sanctum: paine and coach justin langer were tasked with rebuilding a broken team. Image: Getty.
A long and winding road
If you view Paine as lucky, consider that he was once a little unlucky. Paine broke into the one-day side way back in 2009 as a wicketkeeper and opening batsman. He was seen as the next in line to take over keeping duties in the Test team whenever Brad Haddin decided to retire. In fact, Paine made his Test debut while Haddin was injured, playing four Tests against Pakistan and India in 2010.
But things don't always work out for next-in-lines, not when the ranks are as deep and filled with as much talent as those in Australian cricket are. Just ask James Pattinson or Stuart Law, or countless other next-big-things.
In November 2010 Paine broke his right index finger after being struck on the hand by a delivery from Dirk Nannes in an All-Stars T20 match. While finger injuries are always more serious for keepers, Paine wasn't too fazed by it at the time.
"At the start, when I first broke it quite badly, I just thought, 'I'll have surgery, I'll get it fixed, and I'll be back'," he says. "Brad Haddin was the keeper. I thought he would sort of be winding up and it would be perfect timing when I came back."
Funny what can happen when you're busy making plans or anticipating outcomes. For a couple of years Paine fought desperately to get back into the Test side. The problem was, while he was still keeping well, his form with the bat had dropped off dramatically. "I still thought I was the best wicketkeeper in the country, but I just could not get a run anywhere," he says. After a period of 18 months in which he played "pretty ordinary cricket", Paine had to face the truth. "I was like, 'Well, there is absolutely no chance that I'll ever play cricket for Australia again'."
By the beginning of the 2017 season, it was starting to look like he may not even play first class cricket for much longer. No longer Tasmania's first-choice keeper, Paine was seriously considering moving to Melbourne to take up that corporate job with Kookaburra. He sent a text to his mentor, Ricky Ponting, telling him that he was thinking of walking away from the game. "He rang me back and he sort of said, 'Well, why would you do that?'" Paine still had a Hobart Hurricanes contract for the Big Bash. At the same time, Adam Griffith took over as coach of Tasmania and he, too, urged Paine not to pack it in. Paine decided to stay put, re-signing with the state for another couple of years.
In that Sliding Doors moment Paine doesn't send the text to Ponting. Instead, he's now making an honest living in Melbourne. He's got security, maybe a work phone. Blokes in the lift squint at him and wonder where they know him from. The odd cricket tragic remembers his name in pub trivia. "Had I not sent that text or spoken to a few other people around that time, then it could have changed quite drastically," Paine admits. "It's lucky that I had some good people, some good mentors around me that I could speak to."
Is it luck, though? Seeking out mentors and establishing a network of people you can tap for advice when things aren't going your way is kind of like insurance. The day may never come but if it does, they're there to steer you through.
The thing about good fortune is that if you seize the opportunities it gifts you, your luck can start compounding. With the Test team
on tour in India in 2017, the T20 team were scheduled to play against Sri Lanka at home. From pretty much nowhere, Paine got a game in that series, impressing the right people with his keeping and positive dressing room presence. "I was kind of lucky I got
that little step into the T20 team while the Test team were away," he says. "It sort of snowballed from there."
Truth be told, it was a heck of a snowball. After playing a couple of Shield games he was suddenly thrust into that summer's Ashes series, some seven years after last playing Test cricket. He recalls coming off the ground after making 70-odd in a Shield game to discover his life was about to change. "There was funny stuff coming through on the phone and I was like, 'I don't know if this is real or what's going on here?' About an hour later, my phone rang and I was in the Ashes."
You never really know how you're going to react when your dream comes true, particularly if it's one you thought was over. Paine was overwhelmed and, if he's being honest, a little bewildered by the call-up. So were the media. Most scribes had written him off years ago. "I was one of the people who'd written me off," Paine laughs. "It was one of the most bizarre feelings of my life because I remember being so happy that I'd made it back. But at the same time, I absolutely shit myself. It was one of those moments where it's like, 'Do I really want to be doing this?' Like almost, be careful what you wish for 'cause you might get it."
You might think Paine would be motivated to prove the critics wrong, to work his butt off to justify his selection. After a few days in which he struggled to process what had happened, a combination of gratitude and humility allowed him to reach a place common among those granted a second chance, be it in a career or in life. You accept your good fortune and you realise the importance of enjoying the opportunity you've been given. "I thought, 'You know what? I'm just going to go and have fun'," Paine says. "I've played Test cricket before and I actually didn't enjoy it that much. I didn't allow myself to. And I just thought, 'If this lasts one game, or five games, or 10 games, great'. I just felt like the only thing that would hold me back is if I tried too hard and put too much pressure on myself. Sometimes the hardest thing to do when you become a professional, is to keep it fun."
He didn't know it yet, but Paine was about to find out exactly how hard.
Forged in crisis
The day Paine's life changed again was the day after the Australian cricket team had a reckoning that challenged its ethos and brought into question the spirit in which it played the game. It was the fourth day of the third Test against South Africa in Cape Town in March 2018. The day before Cameron Bancroft had been caught on camera using a piece of sandpaper to tamper with the ball. Paine remembers arriving at the ground and heading out onto the field to warm up before the team was called back into the dressing room. There they were told captain Steve Smith and vice-captain David Warner would be standing down.
"Then, literally out of nowhere, the chairman of selectors said, 'Look, not ideal. It's been a tough 24 hours. We've still got a Test match to play in' and he literally just said, 'Mate, you're captain, so good luck'. It was bloody tough for a team to go through and then have to walk out onto the field and play a game an hour later."
Disbelieving as he was at the turn of events, Paine thought only of the immediate future and what he had to do to help a broken, shell-shocked team get through the Test match and the series. "I just thought, 'Oh well, I'll obviously be captain for the rest of this game and probably the next Test, then they'll appoint a new one'."
Somehow Paine and the team managed to get through the series. Three years later, and with an 11/8 win-loss record, Australia's 46th Test captain is still in charge.
You might recall some of the hand-wringing the ball-tampering saga ignited. A team long pilloried by critics for their bare-knuckle brand of cricket was forced to examine the way it conducted itself on the field, with much made of the perceived 'line' between being aggressive and going too far. It was a pretty moot point in Paine's view. "I just think it's common sense, isn't it? We want to compete. Australian teams are known for having a crack and trying their best, and doing it, almost, with a smile on your face."
In fact, in hindsight, Paine feels that in the aftermath of the ball-tampering saga, his emotionally battered team erred too far on the side of caution. They became too meek for his liking. "We became a little bit timid to say too much on the field because I think a lot of guys were a bit scarred," he says.
Despite his choirboy looks, Paine is a tough-as-nails competitor. You get the feeling he would have enjoyed playing in eras past when the team focused on 'mentally disintegrating' its opponents. Occasionally those instincts have slipped out. He admits that in last summer's series against India, the suffocating pressure of playing in the bubble got to him. There was no respite from the spotlight – no salad rolls at the local bakery. In the bubble, deprived of the distractions of family and a social life, tensions between the two teams built over the course of the summer until the Sydney Test, when Paine was involved in altercations with Indian player Ravi Ashwin and umpire Paul Wilson. He would drop three catches on the final day. "Without having those distractions last summer, it just built up and built up and boiled over," he says. "I got a bit angry and a bit punchy, and then I didn't keep as well. And then I didn't captain as well because I wasn't thinking as clearly or as calmly as I normally would."
It's a pretty frank admission, almost refreshing in its honesty when you compare it to the obfuscation and refusal to take responsibility you see in the political arena. It was also a lesson learned. If Paine finds himself back in a bubble this summer, which is likely at some point, he'll be prepared to find outlets for his stress. "I'll know that I'll have to pack a PlayStation or take something with me that's going to keep me entertained to switch my mind off cricket."
After burners on
Retirement can seem as distant as the horizon for most of a professional athlete's career. Abstract, scarcely even real. Then, suddenly, it's upon you and you find yourself missing the pesky demands of the spotlight. The brainless ads for fried chicken or mobile phone franchises, the eager kids shoving bats in your hands. But what many players miss most is the camaraderie of the dressing room.
Paine is in a fortunate position for a couple of reasons. For one, the Australian captaincy has opened doors for him. Whatever he does next will be something of his choosing.
"I'm in a position now that when I retire, I'm able to do things that I enjoy and want to do, rather than at one point, where I was pretty much looking for work in anything that I could really get," he says.
He's already started branching out, partnering with fellow Tasmanians, former AFL star Nick Riewoldt and former cricketer, George Bailey, to bring the Bodyfit gym franchise to the Apple Isle. "I've always been into my fitness and I know that when I retire, I'm going to really miss being around teammates all the time," he says. "This is a business that I can get into now that takes up a little bit of the life that I'll be leaving behind."
The other reason Paine will be ready for retirement? Well, you could argue, if you were being particularly facetious, that it will close the loop on the parallel universe he's been inhabiting for the last four years. That the bloke working the Kookaburra office job is closer to the default trajectory his life was supposed to take. The funny thing is, in both universes, Paine is the same guy. He's still working his butt off. He's still taking time to smell the roses. Chances are, he's still perceived as a lucky guy.
"I think I've always kind of been like that," he says. "I like the quote, 'The harder you work, the luckier you get'. That's something I've always had in the back of my mind when I don't want to train or I don't want to run." The sentiment behind the quote was reinforced to him early in his Test career by Ponting. "I couldn't believe how much he and Michael Hussey and a few of these other guys trained and how many balls they hit," Paine remembers. "He just said to me, 'No one gets better at anything doing less'."
Perhaps Paine was lucky to hear those words so early in his career. More important is that he heeded them. Given he was the fastest wicketkeeper in history to record 150 Test dismissals, you'd have to conclude, depending on the logic you use, that either his 'luck' actually ran out years ago, or his career was blessed from the start.
Ben Jhoty, Men's Health's Deputy Editor, attempts to honour the brand's health-conscious, aspirational ethos on weekdays while living marginally larger on weekends. A new father, when he's not rocking an infant to sleep, he tries to get to the gym, shoot hoops and binge on streaming shows.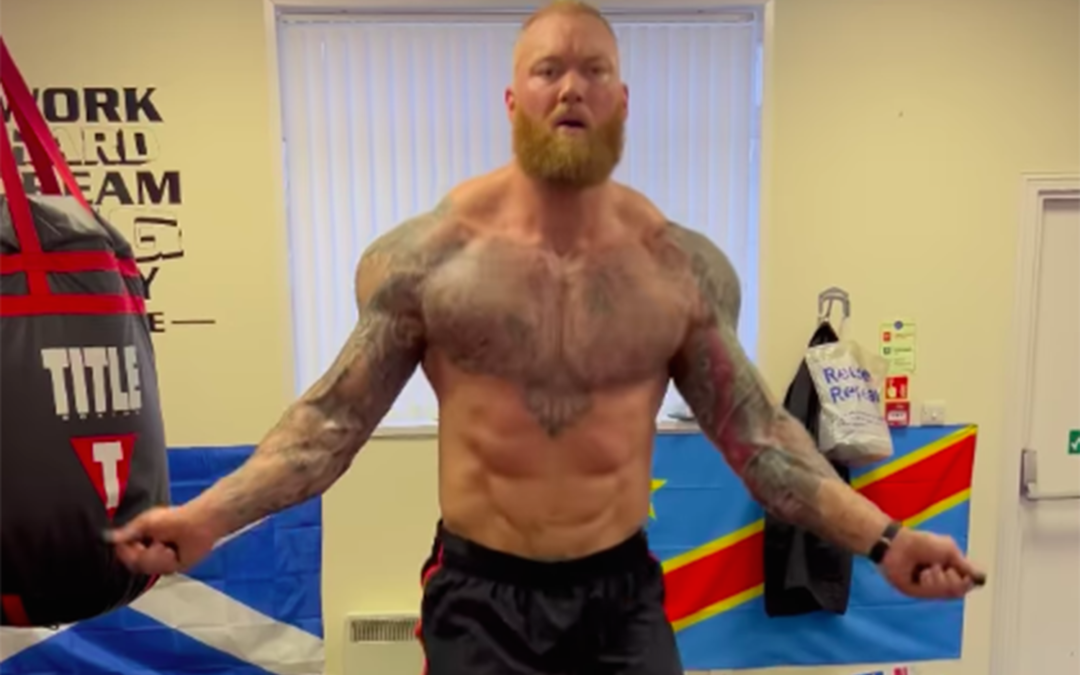 Former World's Strongest Man winner Hafthor Bjornsson, a.k.a. The Mountain, has undergone a dramatic body transformation in the last year, after retiring from the world of competitive strength sports and embarking on the long road towards a new career as a boxer. It's...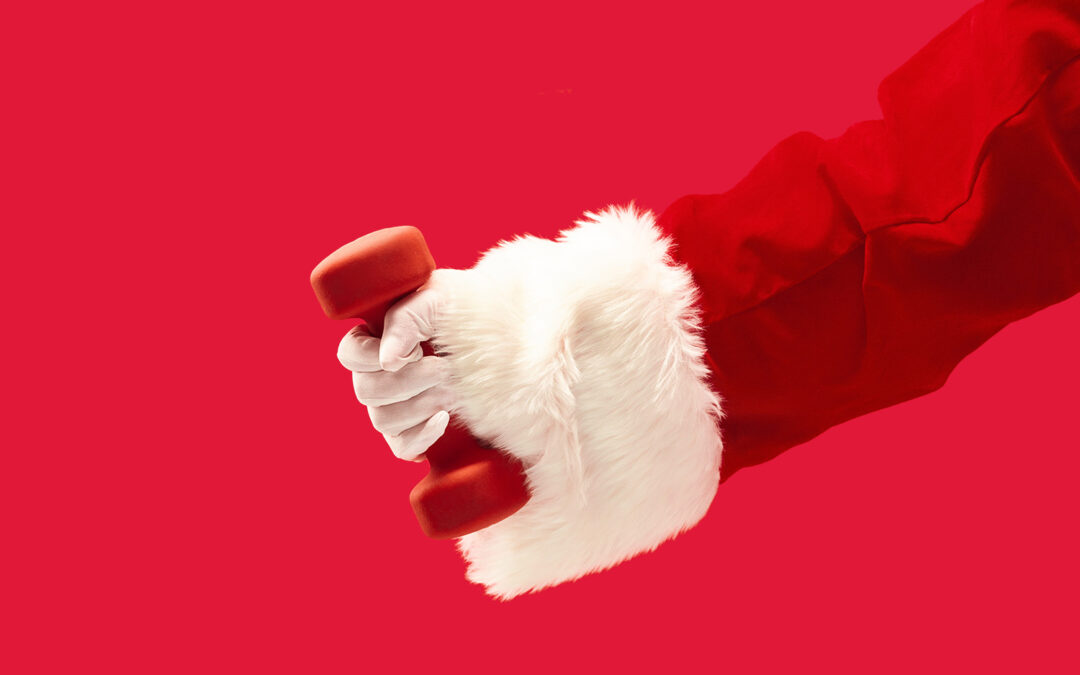 This Christmas/New Year may feel a little different – and that's ok. It's been an interesting year...