The 5:2 Workout Plan And Diet Plan Behind Travis Van Winkle's 5kg Muscle Gains
Cast in the Netflix phenomenon You, Van Winkle went all out on a rigorous exercise plan and carefully curated diet to ensure he looked the part. The result? 10 pounds of lean muscle added to his already-shredded frame.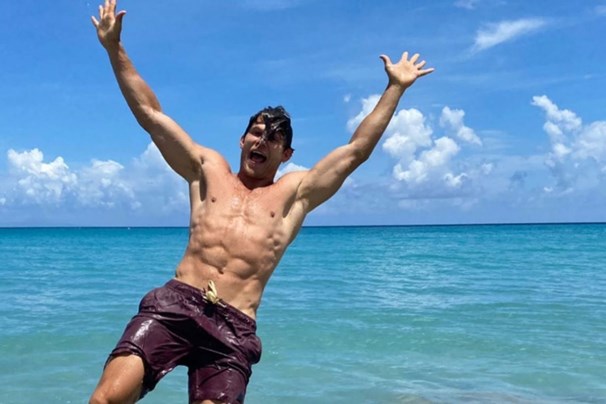 Instagram/travisvanwinkle
If you haven't already heard, season three of You has landed on Netflix and fans are once again going wild. Sure, the show's protagonist is extremely problematic, but audiences have largely been able to brush that aside and delve deep into the psychological (albeit, incredibly saucy) thriller that follows Joe and his relationship struggles. If you've been feverishly watching with the rest of the world, you likely would have come across a new face in the series: that belonging to actor Travis Van Winkle, a man you'd likely recognise from previous roles in Transformers and the TNT drama The Last Ship. Tasked with bringing Cary Conrad to the screen, a bio-hacker and fitness entrepreneur who has his own line of supplements, Van Winkle knew he couldn't leave anything to chance. Intent on embodying his character to the fullest, it propelled Van Winkle to embark on a demanding physical transformation that ultimately culminated in a 5kg of muscle packed onto his frame. 
In an interview with Men's Health US, Van Winkle admits: "Before I got the role in You, I had a pretty loosely structured exercise routine." This involved working out four times a week, focusing primarily on full body circuit and HIIT workouts. "I'd stretch, warm-up, and be done in an hour to 90 minutes. I wasn't focused on building muscle, just maintaining," said Van Winkle. 
Naturally, that all changed upon casting. To bring the charismatic and professionally ripped Cary Conrad to life, Van Winkle knew he'd have to put greater focus into his training to reap the rewards – not just physically, but aesthetically too. This led him to the expertise of celebrity trainer Grant Roberts, a man known for transforming some of the world's leading talent like Kumail Nanjiani for The Eternals and David Dastmalchian for Dune. 
A DM later and Van Winkle was in Roberts' office for a 3D body scan, looking at parts of his body he wanted to add muscle to. The result was a carefully curated 5:2 workout plan which Van Winkle did mostly in his garage home gym around 2 or 3pm in the afternoon. Central to the plan was hitting certain muscle groups each day, which typically included four different exercises per muscle group. Van Winkle explains that he'd do descending reps within each set (e.g. 12, 10, 8, 6 reps) and add weight as he went down the ladder. Rather than an hour four times a week, he was spending two hours in the gym each day. 
"I was training like an Olympic athlete," says Van Winkle. 
To ensure he could continue to perform at his peak, Van Winkle also focused on recovery. "I took HCL creatine everyday after my workout, with dextrose in my protein shake within 30 minutes," he explains. Weekly deep tissue massages and acupuncture were also a necessity and he frequently used his massage gun. Bed times were strictly 10:30pm, with Van Winkle rising around 6:30am or 7am. 
But as anyone who has ever embarked on a physical transformation can attest, nutrition is equally – if not more – important than the workout itself. Roberts made Van Winkle eat six meals a day with a heavy focus on macro counting. During the five days of the week, Van Winkle stuck to 240 grams of protein, 130 grams of fat, and 100 grams of carbs, tracking it all on the MyFitnessPal app. 
"I didn't know what macros were before this," he told Men's Health. On weekends, he still aimed to get the same protein intake, but reduced fat intake by half and doubled up on his carbs. "I'd have cake, doughnuts, burgers, pizza…load up on carbs" he says. "It helped with gaining lean muscle and mass in those particular body parts I'd hit come my workouts on Monday and Tuesday."
Packing on muscle to play a fitness entrepreneur is one thing, but just how does an actor prepare for a shirtless scene? As Van Winkle will tell you, he took on three days of water loading (drinking 2 gallons of water a day), then drank no water the day before the scene. The day prior, he consumed no water but hit the sauna, and ate a carb-heavy meal of steak, a baked potato and wine. Morning of the shoot, Van Winkle carb loaded once again, with six pancakes and blueberries with syrup. On set, he then had a rice cake and scoop full of raisins before doing a mini pump session before going on camera. 
"I learned how to go extra lengths to get the results," he explains. That said, we'd firmly advise not to do such a thing without the guidance of a professional and it needs to be said that Van Winkle was keenly under the eye of Roberts throughout the entire process. 
After close to five months of training, Van Winkle achieved his goal of adding 10 pounds (or close to 5kgs) of muscle. "I did everything Grant Roberts told me to do," he admits. "It became so normalised for me, but I'm incredibly self motivated and knew I had to show up for myself. When you don't want to work out because you're sore, you have to push through that. Get in there and do the work, and you'll be happy you did."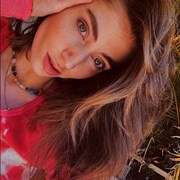 Hobby jogger and pickle enthusiast, Jess is a storyteller committed to sharing the human stories that lie at the heart of sport. When not staring down the blank page of a word document, you can find her getting a little lost and a little cold out on the trails. Previous work featured in Vogue and GQ Australia.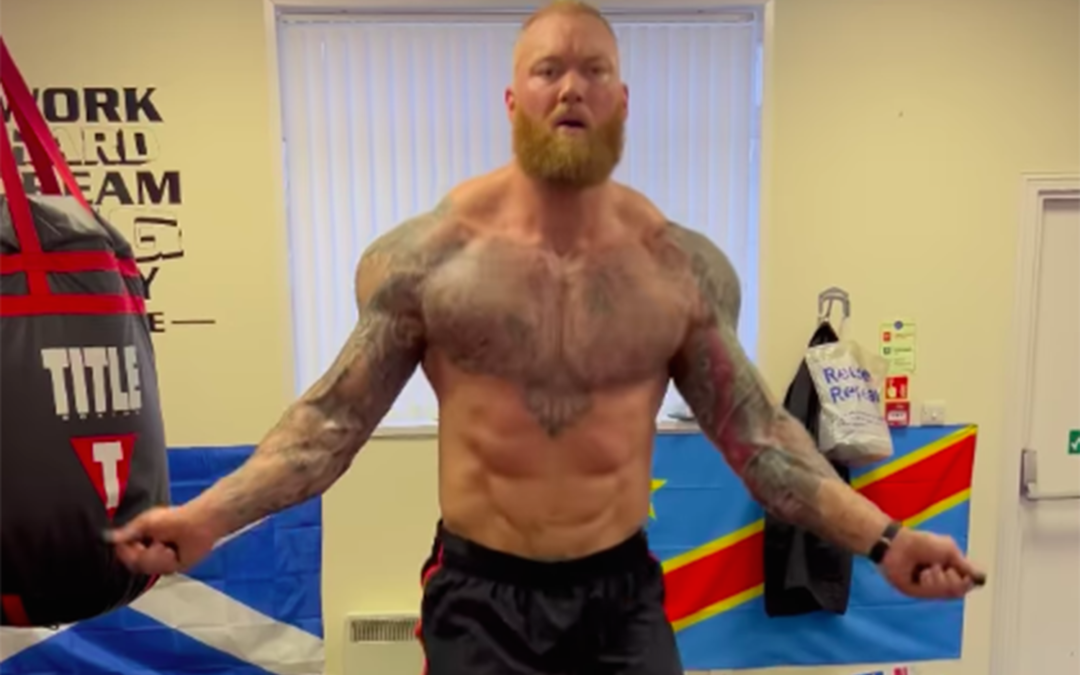 Former World's Strongest Man winner Hafthor Bjornsson, a.k.a. The Mountain, has undergone a dramatic body transformation in the last year, after retiring from the world of competitive strength sports and embarking on the long road towards a new career as a boxer. It's...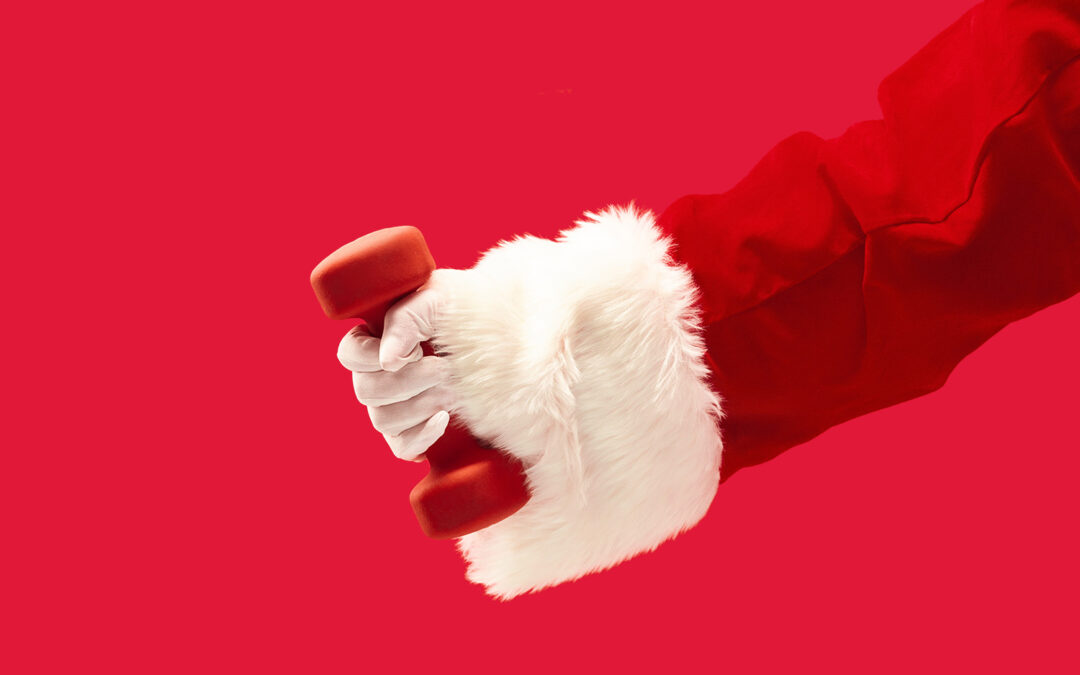 This Christmas/New Year may feel a little different – and that's ok. It's been an interesting year...