How Stuntman Ryan Tarran Prepares His Body To Look Like Hollywood's Biggest Stars
It sounds like the plot of a Hollywood action movie. A 13-year-old boy sees a smaller guy being bashed by a bunch of older kids. He steps in to help, only to end up being beaten to a pulp himself. "I got hit in the head, struck numerous times. I was down on the ground […]
It sounds like the plot of a Hollywood action movie. A 13-year-old boy sees a smaller guy being bashed by a bunch of older kids. He steps in to help, only to end up being beaten to a pulp himself.
"I got hit in the head, struck numerous times. I was down on the ground and ultimately humiliated as a coming-of-age male," recalls stuntman Ryan Tarran.
At his dad's suggestion, the 13-year-old kid takes up martial arts, heading off to classes close to his home in Gymea Bay, south of Sydney. Nearly 30 years later, here he is, once again getting whacked by all kinds of badasses. This time, though, he's fighting back. He's winning. And he's showing the world what he's made of.
Now 40, Tarran has performed in blockbuster superhero movies that have been seen by millions around the globe. He's not only appeared in these films, but stunt-doubled for massive stars: Chris Hemsworth in Thor: Ragnarok and Jason Momoa in Aquaman are two you'd know about. He's also doubled for Dolph Lundgren and Nikolaj Coster-Waldau, and has performed in other hit movies including Alien: Covenant, Mad Max: Fury Road and The Wolverine.
It's not hard to see why Tarran has landed these gigs. He cuts an imposing figure that's a convincing match for Hollywood's biggest action stars. At 191cm, he stands shoulder to shoulder with Hemsworth and is close to Momoa's towering height – and has a muscular build to equal theirs. The girth of his chest, arms and legs – it all speaks of someone who'd have no problem passing for a Nordic god or the king of Atlantis.
Tarran's achievements are down to more than just his size, though. He has got to where he is by working damn hard – on his fight skills, his strength and conditioning – and making sure he gets things right. We've all seen how much these big-name stars are bashed around onscreen, and it's Tarran's job to take those hits, in highly dangerous situations. But that's not what him scares him the most. What really terrifies him is the idea of letting his team down.
TAKE THE HEAT
"When you look at what's at risk in monetary terms, if it's a 100-day shoot and a $100 million movie, well, it's not rocket science to work out how much each day of shooting costs," Tarran says. "I know how many departments have been thinking about this particular moment for months, just to get the scene ready. So for me the real stress is about not fucking this stunt up."
Tarran's work takes him around the world – he's currently filming in Canada, Cyprus and Thailand – and it seems a long way from his early role as "Huge Wharfie" in Underbelly: Razor.
He recalls clearly the moment he wanted to become a stuntman. It was all down to Arnold Schwarzenegger – or rather, the guys Arnie was destroying on screen. "I remember watching Commando when I was 16 and seeing Arnie blow up a whole army with a bazooka," says Tarran. "I thought, 'These guys are unreal. They're falling through roofs, being blasted out of windows, falling off heights. I want to do that'."
He now finds himself living his dream, doubling for the likes of Hemsworth and Momoa and working alongside other celebrated Hollywood stuntmen such as Bobby Holland Hanton and Kim Fardy.
Momoa liked Tarran's work so much he handpicked him for a speaking role in his Netflix drama Frontier. The US-born actor praises Tarran's work ethic as being "infinitely stronger than mine" and calls him "a dear friend who looks after me and my protection".
Continues Momoa: "I love working with people who care and love their jobs. I'd say Ryan works harder in the gym than I do, and coming from a martial arts background makes him so respectful and clear-headed."
Indeed, Tarran's passion for martial arts has shaped his life and personality more than anything else. It's a passion that started when that group of 17-year-olds decided to bash a kid four years their junior. And it's one that's given him the moves he needs to perform on camera, the ability to withstand brutal knocks and the mental fortitude to work long and gruelling hours.
Tarran holds black belts in Hapkido and Kumdo, which basically means he can hurl you around, throw a devastating punch or kick and wield a sword, knife or big stick with ease. Martial arts also help him deal with the stress of his job. An example is the way he always bows upon entering a room where he's filming or rehearsing. "I do it as a simple head nod," he says. "It's a way of saying to myself, 'I'm putting everything that's come at me today behind me. All I'm going to think about is what's in front of me now.'"
It seems like a vital skill for a stuntman. After all, you can afford zero distractions when you're about to be thrown from a building or burning car.
To stay on top of his game, Tarran trains three times a day. When he's in Australia, his morning starts with a Muay Thai session with John Wayne Parr, the 10-time world champion kickboxer, at Parr's Boonchu gym just a short drive far from Tarran's Gold Coast home. Tarran says Muay Thai is perfect for a stuntman because it's one of the "harder" martial arts in terms of impact. "In Muay Thai, you don't touch a pad, you really hit a pad," he explains. "It makes you harder – it makes you a better stuntman."
At lunchtime, he'll train again, this time honing skills such as spinning a particular weapon in a way that looks good on screen. Or he might work out how to wield an axe when a camera is less than half a metre away.
His third session is all about building his physique to suit a role. When he was working on the World War II flick Hacksaw Ridge, Tarran got word that Thor: Ragnarok would soon start shooting. The opportunity to double for a star like Chris Hemsworth was too great to pass up. He sent the producers a photo of himself in peak condition. "That photo is highly motivating," says Tarran. "It becomes a case of, 'Not training is not an option, Ryan, because I really want this job'."
Over the next few months, he went from being an undernourished soldier in Hacksaw Ridge to a guy with a physique to match Hemsworth's. Then he had to do it all over again for Aquaman. "I looked at videos of Jason Momoa and I thought, 'Okay, I'll be going from big to bigger,'" he recalls. Working with trainer Matt Pow, Tarran drew up a plan and launched straight into it. "I knew what the goal was: I had to put on at least 10 kilos of lean muscle mass."
Like most guys whose goal is to stack on or maintain serious brawn, Tarran performs the classic lifts: bench press, squat, deadlift, row, shoulder press. He prefers to work in lower rep ranges – "I was built to do five to eight reps" – but Pow also has him working in higher ranges (anything from 15 to 30) to address his weaknesses. And before any of that starts, Tarran spends at least half an hour on range-of-motion and mobility exercises.
He then has to maintain his physique on-set – and he could be filming for up to 16 hours a day. That means training early – very early. For Aquaman, every second or third day Tarran had to be in make-up at 5am to have his tattoos reapplied to make him look just like Momoa's character. "I'd get up and train an hour and a half before tattoos, and then I'd have to get in a cold shower so I wasn't sweating when they applied the tatts," he says.
Tarran's training and skills work together to minimise the risk of injury on-set. Does he ever worry for his life? Well, Tarran is at pains to point out that being a stuntman is all about teamwork. Putting together even a single 'gag' (as insiders call them) requires an army of people: stunt coordinators, fight coordinators, fire experts, driving experts, riggers. "We rehearse it over and over again until every possible scenario has been removed that could injure anyone," Tarran says. "That could be 50 times or 100 times."
Still, it's all worth it in the end to get to that moment when everything comes together. "It's an incredible experience when a major stunt that's worth hundreds of thousands of dollars is successful and everyone is safe," says Tarran. "It's amazing. It's like winning the grand final."
GORGE AND EFFECT
Tarran's daily meal plan reflects the imperative to be big yet cut. He's been training recently for Jiu Jitsu, starring Nicolas Cage and martial arts star Alain Moussi. "I need to be a large, intimidating force, and that requires the same sort of approach and mentality that I had for Aquaman," says Tarran.
Here's what his day on a plate looks like.
Oats and blueberries.
Four eggs. Beef (200g) with rice* and veg Fish (200g) with rice and veg.
Beef (200g) with rice and veg.
Fish (200g) with rice and veg.
Yoghurt, blueberries and nuts.
THE STUNTMAN WORKOUT
As a guy who doubles for superheroes, Tarran needs their tell-tale look: massive shoulders. Action!
THE WARM-UP
A thorough pro, Tarran primes for every shoulder session with prehab work that includes numerous range-of-motion and rotator-cuff exercises. You can do a bunch of these with a resistance band.
THE WORKOUT
Barbell Press
Do 2 sets of 30 reps, followed by 4 sets of 8-12, then 1-2 sets of 2. Rest as needed.
Behind-The-Neck Barbell
Do 2 sets of 20-30 reps, followed by 4 sets of 15. Rest as needed.
Circuit
This triple-set finisher will hit all three heads of the shoulder, with particular emphasis on the medial head for width. Do 3-5 rounds, 15-20 reps per move. Aim to keep rest to 60sec between rounds.
-Reverse Fly
-Seated Dumbell Lateral Raise
-Wide-grip Barbell Upright Row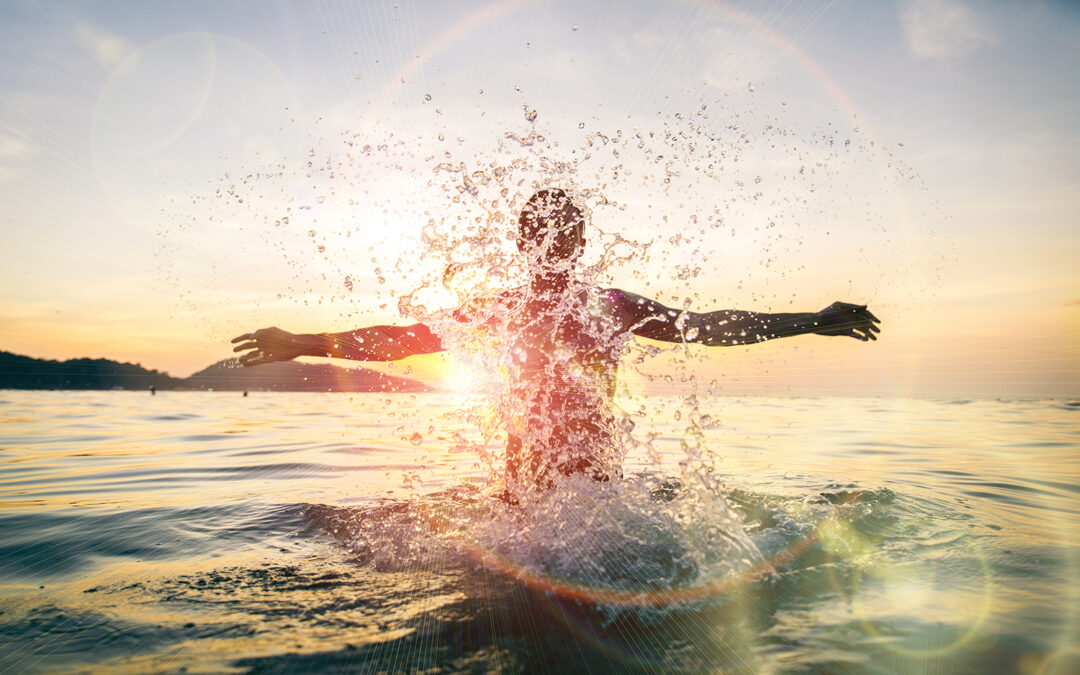 With the Christmas countdown now on, balancing the inevitable rush of work deadlines and juggling life and family commitments before the summer holidays can be stressful. After another year of lockdowns and uncertainty, many of us feel we are crawling to the finish...