Eddie Hall Opens Up About 40kg Weight Loss And Preparing To Fight 'The Mountain'
Just a few years ago, Eddie Hall weighed in at 200kg and consumed more than 12,000 kilocalories a day. Now, he's traded cheesecake for 10 litres of water and is training harder than ever.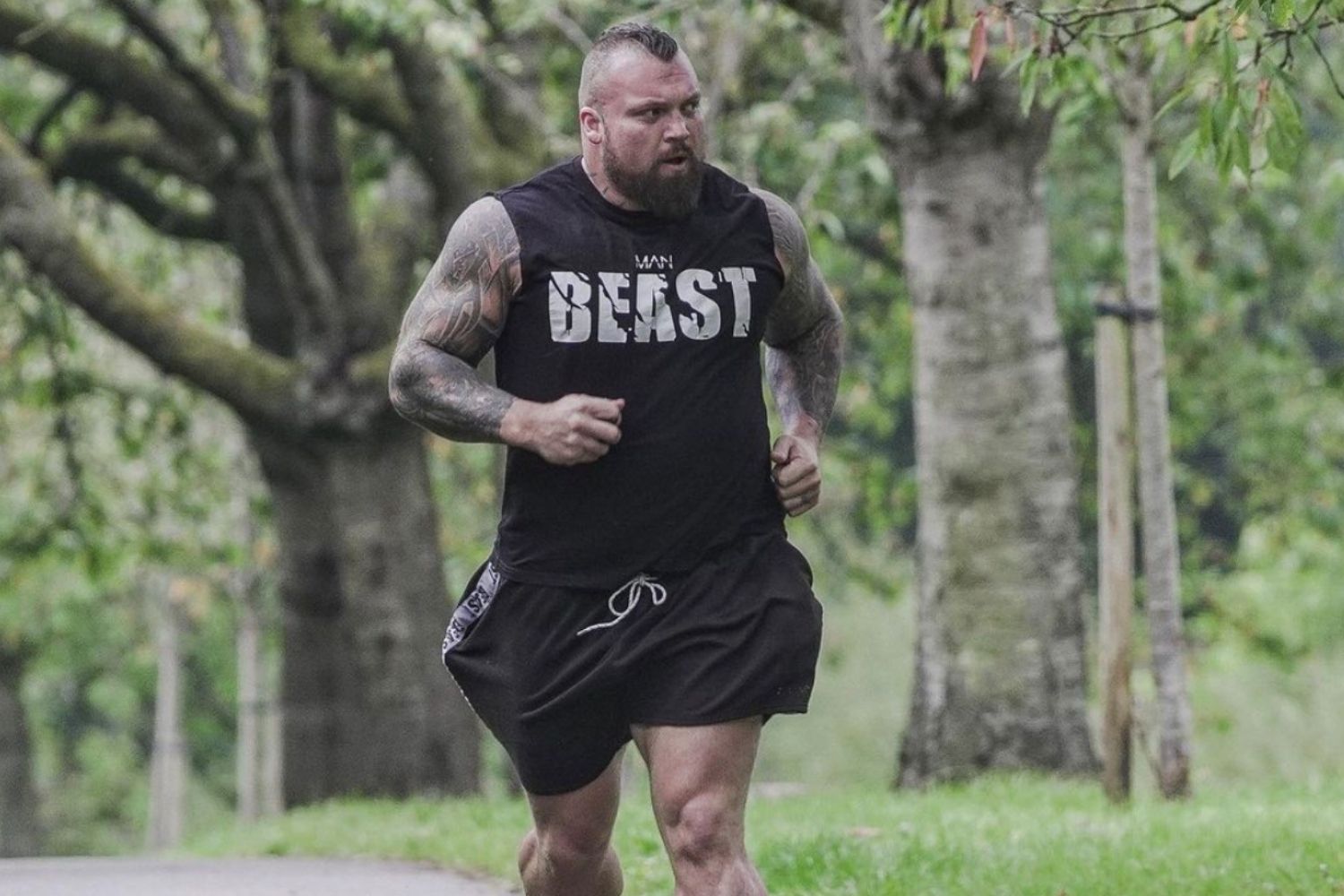 The name 'strongmen' implies a sense of super-human strength. Marvel's latest superheroes might be outfitted with supernatural powers and abilities, but when it comes to those mortals that walk amongst us, strongmen are as close as it gets to witnessing an act that defies all odds. These are, of course, the people who pull planes attached to think cord around their waist, guys who can pull trucks as if they were merely pulling a sled across a varnished gym floor, who lift boulders onto their shoulders and carry logs without breaking so much as a sweat. There might be strong people, but strongmen are a class all of their own and for Eddie Hall, it was one that he dominated for some time. 
For Eddie Hall, the strongman competition was something he excelled in. At the time, he looked markedly different from the man we see today, weighing in at nearly 200 kilograms and eating a staggering 12,000 kilocalorie diet that included entire cheesecakes. The diet might not have looked healthy, but when you're having to harness the strength and power required to win such titles, you need to fuel. In 2017, Hall won the World's Strongest Man competition in Botswana and once even held the world record for in-competition deadlifts, with an incredible 500 kilograms. 
In recent times though, Hall's daily activities are a far cry from those he once did as a strongman in training. Gearing up to take on Hafthor Björnsson (otherwise known as "The Mountain" from Game of Thrones) in what is being dubbed the 'heaviest boxing match in history', Hall has slimmed down significantly. Now weighing in at 156 kilograms, he's nimble and far lighter on his feet, and he's training harder than ever. With an organic diet and recovery routine that includes sleeping in oxygen chambers, Hall is doing it all to put his best foot forward in the ring. 
In a recent interview with GQ UK, Hall explained that his routine involves waking at 7:30am when he drinks a protein shake before heading out on a 1.5 mile run wearing a 15kg weighted vest. Following this, he has breakfast: 250 grams of salmon with sourdough bread or lean minced beef with peppers, onions and mushrooms. It's the healthy balance of protein and carbs Hall needs for a solid day of training. After breakfast, he completes two hours of weight training before lunch. 
"Then I sleep in my hyperbaric chamber [a form of therapy that allows blood to carry more oxygen, generally in order to repair tissue] in the basement for an hour and a half," says Hall. "When I get out, I'll have my second lunch – flapjacks, fruit – basically a carb load ready for the next training session which is usually swimming."
Already it sounds gruelling, but all this is before Hall even steps into the ring for a boxing session which tends to lsat just over an hour. "I don't want to give detail on the boxing training – that's going to be a rude awakening for the prick I'm up against. Just know that at the end of my boxing training session, I'll get in the ring and do six to 10 rounds of sparring with a good boxer," Hall explained. 
For recovery, Hall has an hour physiotherapy session, stretches in a hydrotherapy pool, then does a sauna and ice bath. For dinner, he has chicken or steak, rice and vegetables with Greek yoghurt for dessert. As he admits, this is the routine he's been living seven days a week, 365 days a year. Even so, he's presenting a more relaxed Hall than we've ever seen, something he credits to being able to switch off. "Relaxation is something I'm more appreciative of these days. I was properly obsessed with strongman training, and I've learned that isn't healthy. A big deal now is switching off," says Hall.
"I have one day when I relax each week, usually a Wednesday like today. I'll do the business and admin, then I'll play video games all day and we'll maybe go out for a meal as a family. Ultimately, I'm human. I have to sit down and take a shit like everybody else."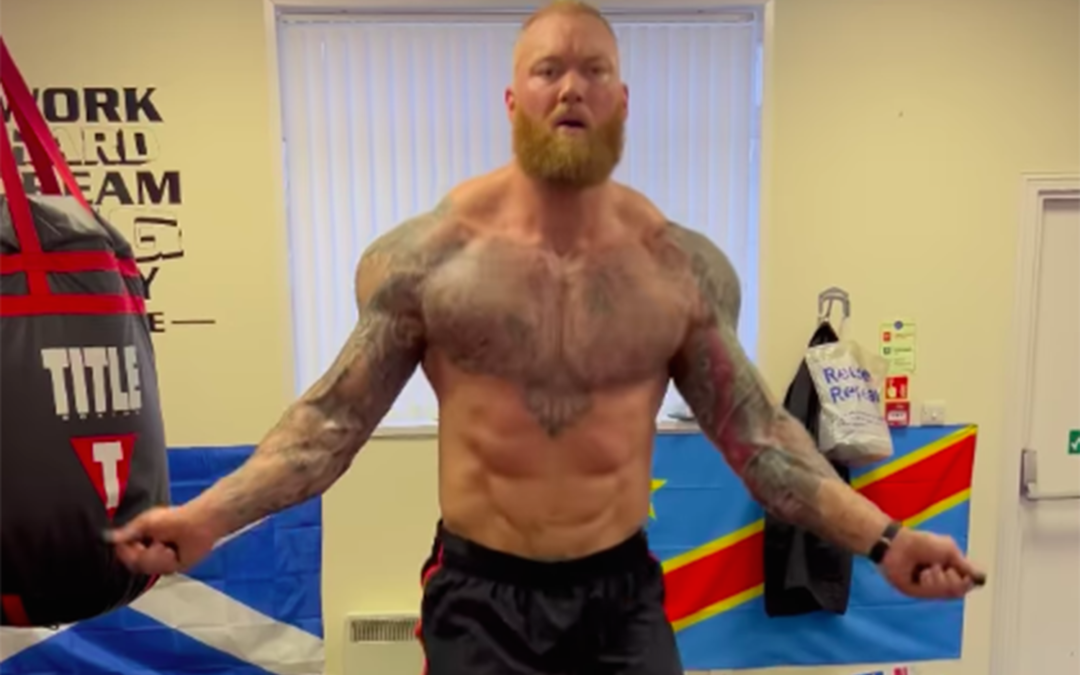 Former World's Strongest Man winner Hafthor Bjornsson, a.k.a. The Mountain, has undergone a dramatic body transformation in the last year, after retiring from the world of competitive strength sports and embarking on the long road towards a new career as a boxer. It's...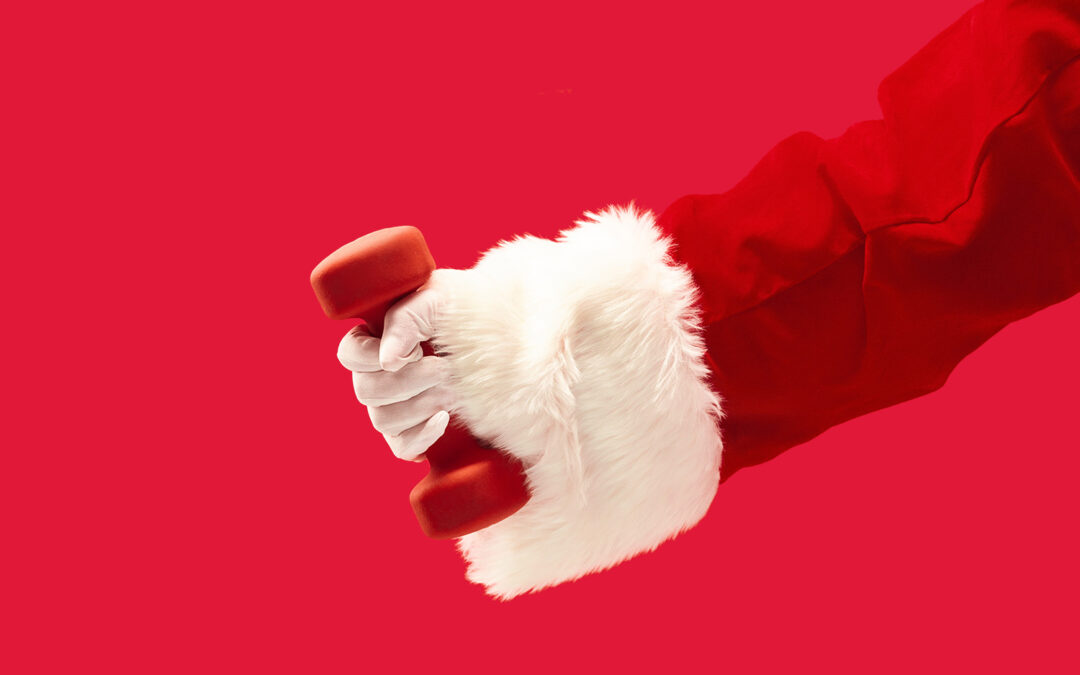 This Christmas/New Year may feel a little different – and that's ok. It's been an interesting year...